For Adults
History Theatre offers unique education and enrichment opportunities for learners of all ages beyond the shows on our stage. Our programs use the art of theatre to let learners explore and enjoy topics in history and current social issues, as well as discover the power of their own voices and stories through engaging live performances on History Theatre's stage, and hands-on workshops at History Theatre and residencies in the community.
Workshops at History Theatre
Writing from Memory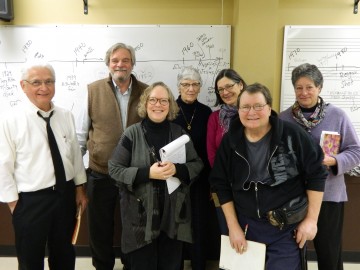 Participants in the Winter 2014 Writing from Memory Workshop.
New session starts October 11!
Click to REGISTER FOR Writing from Memory WORKSHOP
History Theatre knows that every person embodies a unique piece of the history that we all share as a community.
The Writing from Memory workshop is an opportunity for participants to explore significant chapters in their own personal or family histories using the tools of creative writing.
The workshop led by author/educator Erin Hart consists of six sessions that will include discussion, writing exercises, and time for sharing work with the class. Absolutely no experience necessary and everyone is welcome! 
Listen to Writing from Memory student Cathy Gillaspy short piece "In '66, A Summer of Bliss Before the Realities of War," that aired on NPR!

Please contact Paul de Cordova for information about the next writing workshop.
Contact:
Paul de Cordova, Education Manager
Phone: 651-292-4323 ext. 115
Email: pdecordova@historytheatre.com
If you are looking for information about bringing a group of adults to History Theatre, please contact Jill Vaughn, Group Sales Manager: jvaughn@historytheatre.com.
Residencies in the Community
Seats to Stage
for Adult Learners
History Theatre believes there's more to history than what is published in books. People make history every day: their own history.
To help community members explore this idea we've created the Seats to Stage Residency program.
When you engage the Seats to Stage Residency you can expect:
Experienced, professional teaching artists lead participants through an interactive curriculum
Participants will produce poems, narratives, monologues and scenes that explore and express their personal history
An 8-session residency will focus primarily on writing
Pricing:
Please contact Paul de Cordova for information about pricing and scheduling residency.